Table of Contents
Curriculum Vitae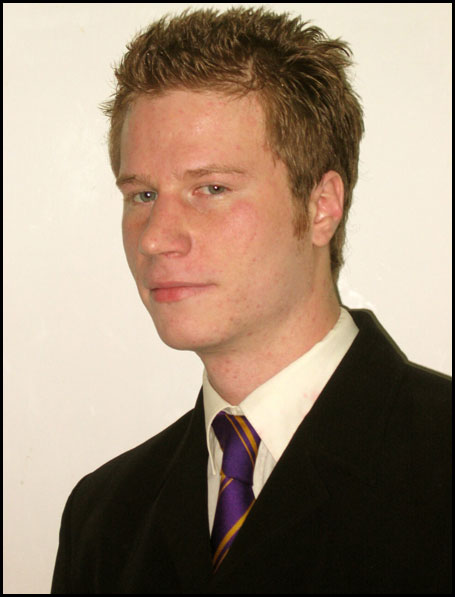 | | |
| --- | --- |
| Name: | Stephan Meerman |
| Address: | 12 Langdale Road, Victoria Park, M14 5PP, Manchester |
| Contact Information: | stephan_meerman@hotmail.com / Tel: 07940238884 |
References available on request.
Personal Introduction
I am a well-educated and resourceful person, with wide interests and hobbies. Having travelled across the world as a child I have lived in places such as Gabon, Syria, Cyprus and Malaysia, and have aquired a good understanding of a variety of cultures, and have developed great social skills that allow me to successfully interact with all types of people. I enjoy outside-of-the-box thinking to create new and different solutions to everyday problems. Soon to be finishing university, I look forward to working in a new environment.
Education
Experience
Bar Staff
Hardy Farm Pavilion Bar, December 2004 - September 2005, Responsibilities: serve drinks, operate the till, change barrels, set up, lock up, and clean after a shift.
Residents Association Welfare Officer
Welfare Officer for the RA (Residents Association) at university halls, Easter 2004 — September 2005 Responsibilities: Ensure the happiness of the students within the halls by listening to their requests for social events or offering activities and promotions at the bar to encourage socializing. Weekly meetings, and various jobs, such as trips to buy prizes for our events, decorating the halls, welcoming 1st year students, updating the hall — in particular I am most proud of our collective achievement, in which I played a large role in convincing the other members of the RA to agree, of installing a new jukebox into the halls bar, spending the bulk of our year's money on this project.
Treasurer
Treasurer to the Manchester Jamming Society (a society for musicians and those interested in live performances to come and play together or listen with new people), September 2005 — Present. Responsibilities: Control the spending of the society's money, make decisions on what money should be spent on, and most importantly help organise events, by coming up with ideas for how to make the society work, and looking for venues to perform in.
School Prefect
School Prefect, 1997-2003 Responsibilities: we were in charge of lunch queues to avoid "charging in" by the younger years on a weekly rota, as well as doing roll-calls, waking people up in the mornings, and lights out. We were also given certain powers to administer small punishments for the less severe matters, I feel that this has gave me the chance to discover what it feels like to hold responsibility over, and for, my peers, and I was always careful not to abuse this position.
School Music Society President
Music Society President, September 2002- July 2003. Responsibilities: Give small speeches at the society meetings, and introduce outside performers, as well as to organize events — most particularly I was proud to be the sole instigator of a move towards creating a traditional "Battle of the Bands" at the end of the academic year, which went extremely well, and saw 5 bands play for 2 hours in front of the school pupils and teachers alike.
Interests / Activities
Guitar, I have played in many bands and learnt classical guitar to grade 6 before turning towards my passion for electric guitar; from time to time I write my own songs and I hugely enjoy live performances — both attending bands, and performing myself.
Football, I actively play football with my friends at home on an almost weekly basis which is organised by ourselves. I command a high status as a team leader in these games with my peers, but mostly we all have a huge amount of fun!
Socialising¸ I have been to many, many different places in my life, and I find that I can always find new people to meet and talk to. The opportunity not only to meet people, but to further understand yet more cultures and perspectives on all matters of life from religion to politics, is something I greatly enjoy. All of these encounters from many different countries have given me skills in talking to and understanding many people as I believe can never be taught from a book or even a course, it has to be experienced. I feel that this is my greatest advantage over other candidates, and I hope you consider it to be useful to you.
Other Skills
I can use computers competently, including programs such as MS Word, Outlook, IE, and other basic programs. I am always quick to learn in almost any field, and look forward to new challenges.
My current course at university has taught me skills in researching and defining a field of study, looking at it academically and critically, with heavy emphasis on analytical skills. I believe this has helped me become extremely good at written work and would be useful in a working environment.